1964 Morris Minor Pick up Full WRCC build..
This is not a light restoration or refurbishment with a bit of new paint and some filler this is a full "Nut and bolt" restoration of a 1964 Morris Minor LCV, that we are currently in the process of completing here at WRCC..
If you are looking for "THE BEST" there is available on the market, then this must be somewhere near to that, with no expense spared in its preparation or the build process.
The works carried out are listed to follow and although I have tried to be as comprehensive as possible, I will still miss something, so contact and viewing is advised.
initially we took the Pick up on from a client as a paid restoration, it was in a very sorry state, but on finding out he was very ill asked if we could purchase and restore to WRCC standard and find a loving home for her.
1. The pick up was brought into the workshop and stripped to the last nut and bolt.
2. A new UK made chassis was purchased to sit her on, we regarded this would be the best for a build of this quality, it was then body guard protected and painted with 2 coats of chassis paint.
3. The axle casings and suspension components were sand blasted, and painted with chassis paint.
4. The newly refinished components were fitted to the chassis with New springs, Bushes and all new fixings.
5. The Diff was checked, bearings replaced and painted.
6. All new brake lines were fitted, as well as wheels cylinders, shoes, hand brake cables and drums. We also upgraded the system with a servo.
7. The fuel tank was cleaned up pressure tested, and refinished with new sender and fuel line.
8. The engine 1098cc was removed, crank reground, head converted for unleaded an reconditioned and new bearings fitted (basically the engine was fully reconditioned!)
9. The ribbed case box was also removed taken apart checked and reassembled with all parts required, bearings and seals replaced.
10. Both the above were refitted with new mounts, and new clutch between them.
11. The cab and the body were sent away and sand blasted, back to bare metal.
12. Both the cab, tub & Tailgate were fully refurbished using all heritage panels at a cost of over £6k, not only rotten/ damaged panels were replaced they all were!
13. The cab, back panel, doors, tub and tailgate have been painstakingly filled and had a super bare metal refinish in our inhouse body shop (if you were paying us to do this it would be £4k+).
14. The full interior has been stripped out and a "FULL" newton commercial interior fitted including, fully reconditioned seats (in tobacco leaf) , glove box liners, door cards, carpets, head liner and insulation.
15. The Truck has had a new wiring loom fitted as well all other electrical components, with new battery.
16. The engine bay is "show" standard with all new powder coated components, a new electronic fuel pump is fitted, the SU carb has had a reconditioning kit fitted.
17. A new dual core radiator and all new hoses / fixings have also been fitted.
18. A set of Brand new powder coated 5.5" wide Weller steel wheels (costing £500) come with the truck and will be fitted, with 4 new tyres as well as powder coated spare and tyre.
1000's of painstaking hours, have been put into this truck to ensure that it is in better condition when it leaves us than it was when it left the Morris Motor company!
Any potential owner that is genuinely interested in owning her is more than welcome to call and ask questions about the build or visit our workshop and meet us / ask questions (the kettle is always on!).
The Truck will come with a 6 month comprehensive WRCC warranty!
We can add any modifications / extra's required, so you get just what you want!
WRCC will also accept part exchange on any Morris Minor / Classic car or bike or car of interest.
Transport can be arranged both nationally and internationally at a pre-agreed rate.
Credit / Debit cards are accepted.
Finance can be arranged through our partner company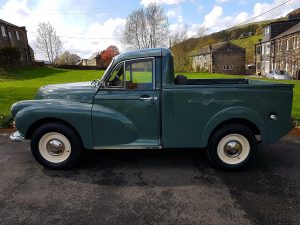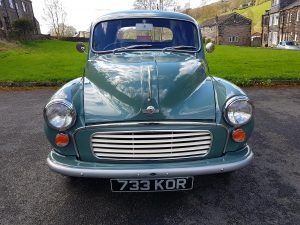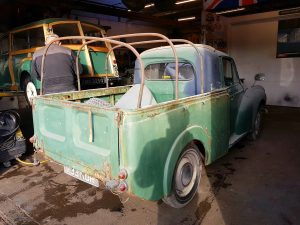 Why buy from WRCC?
We are not your average spit and polish classic cars dealership, we are a Morris minor specialist with years of experience, in sales, repairs and full build.
A full back up service is offered with our cars as we can provide a service plan and all parts as required.
WRCC are a family run company, who take pride in the final product we supply to you.
Is this not the car for you? give us a call on 01422 881 221 we can source, supply or build any Morris Minor to your specification.